Are you facing design challenges with today's technological possibilities? Is it your goal to reduce development costs while improving product quality? Do you want to be ahead of your competitors in defining the next gen products? Discover how electroforming enables breakthrough in the medical industry with an example of nebulizer plates.
Greater medicine deposition rates with electroformed aperture plate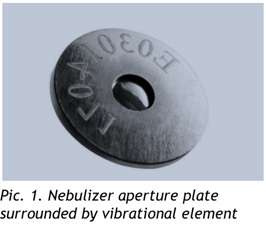 In a state of the art aerosol drug delivery system enabled by Vibrating Mesh Technology, Veco's electroformed nebulizer aperture plate (mesh) releases millions of micron sized droplets per second through its unique geometry.

The key to the Vibrating Mesh Technology which redefined respiratory treatment is the aperture plate surrounded by a vibrational element (shown in picture 1).

The electroformed aperture plate is just 5 mm in diameter and perforated with 1000 precision formed tapered holes. It vibrates 128,000 times per second, creating a mini pump that produces a fine particle mist of uniform size droplets, each between 1 and 5 micron in diameter, an ideal particle size for deep lung penetration. Clinical study has shown that this results in deposition rates far greater than that can be achieved by conventional nebulization.

Role of electroforming in creating a unique geometry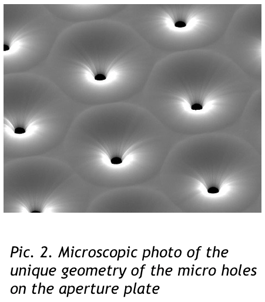 As drug delivery technologies develop, the industry sees an increasing demand for nebulizer nozzle plates of higher precision/quality level. Electroforming as an additive manufacturing process highly suitable for miniature structure meets this demand perfectly due to the following features:

Highly uniform orifice holes can be formed as small as 1 micron

Flexible hole geometry, any complex hole pattern or shape possible

Ultra-precision and extreme accuracy

Capable with bio-compatible materials

Flexible and economic tooling and prototyping


Electroforming is an additive manufacturing process which builds up precision metal parts atom by atom. Electroforming allows you to "grow" material on micro scale accuracy, creating thin, strong, and/or ultra-precise components in complex shapes. It has already proved to be a great solution in many medical applications. It also has the adtantage of cost-effective production.

Learn more about electroforming and how it can enable your next medical innovation by downloading the whitepaper. If you are eager to learn more about electroformed plates/sieves, don't hesitate to contact us via this form. Our engineers are available to answer your technical questions.