Back to overview
How Veco's precision technology enabled the next-generation industry leading thermal mass flow meter and controller
Jun 13, 2017 8:00:00 AM
By Hua Fan
Bronkhorst is the industry leader in thermal mass flow meters and controllers. Veco has been a reliable partner for Bronkhorst since 35 years, co-developing key components and pushing boundaries to enable next generation of world leading products. Learn about Veco's contribution to an award nominated next generation thermal mass flow meter and controller in this blog. Vote for our partner if you agree with us that the EL-FLOW Prestige series with Veco's precision technology deserves this innovation award.
http://www.flowcontrolnetwork.com/innovation-awards-nominations/?preview_id=19272
Gas flow measurement
Flow measurement is recognised as one of the 'need-to-know' process parameters, alongside temperature, pressure and level measurement. Accurate mass flow measurement of gases is critical in operations and control of many industrial and laboratory processes. In the food and beverage sector, the chemical industry and semiconductor fabrication, flow meters accuracy is often the determining factor between optimum quality and rejected products. In areas like laboratory research, pilot plants and custody transfer, precise and repeatable measurement is equally critical.
Thermal mass flow meters
Thermal mass flow meters measure the mass flow of gases, employing a combination of heated elements and temperature sensors, with thermodynamic principles used to derive actual flow. They need limited correction for changes in temperature, pressure or density and are extremely accurate, especially when measuring low and very low flow rates, and are no longer regarded as high cost.
Critical component
The Laminar Flow Element as seen in Picture 1 is a critical component of the thermal mass flow meter using the bypass principle. The functionality of the Laminar Flow Element (LFE) is to create a shunt. In the case of a thermal mass flow meter based on a bypass principle the mass flow is measured in a bypass of the main flow channel. Due to the specific dimensions of the LFE the same linear pressure/ flow characteristics as the capillary sensor tube can be created.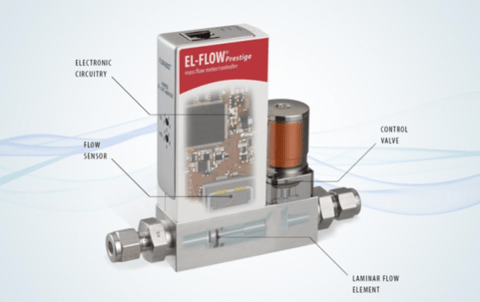 The LFE consists of thin discs with etched channels. A combination of multiple thin discs allow the measurement of very small (less than 1 ml/min) as well as medium (20 l/min) flow rates. These flow discs are created by Veco by using the Chemical Etching process.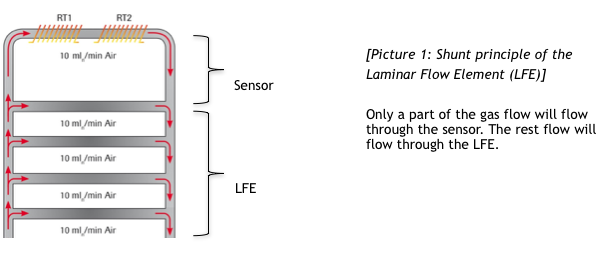 Creating industry-leading products with Chemical-Etched metal parts
Miniturisation of products – and therefore components – is a necessity for manufacturers in order to create industry-leading products. For the flow discs in LFE we applied the Chemical etching process, a subtractive manufacturing method for micro-precision parts.
Chemical Etching (also Known as Photo-Chemical Machining (PCM) and Chemical Milling) is as precise as it is quick and economical. Complicated, multi-level, multi-feature, high precision parts can be produced without the need for expensive tooling or machinery.
Compared to 'traditional' machine processes such as CNC Machining, Stamping, Pressing, Wire Erosion and even more 'contemporary' processes such as Laser Cutting and Electro Chemical Machining, Chemical Etching with its flexible tooling and scalability provides you with an extremely competitive alternative right through from prototyping to large scale production. Rapid prototypes can be produced from your drawings in a matter of days.
Key benefits
Stress and burr free parts
Micron sized features
Tight tolerances
Wide range of materials
Thicknesses from 25um to 2mm
Round holes, sharp edges, straight or profiled edges
Rapid prototyping
Cost effective manufacturing
Flexible tooling allowing easy modifications


Chemical Etching can be the answer to your next innovation
Widely used across a range of high technology industries, Chemical Etching could be the answer to your precision metal part needs. Complex, stress-free, burr-free components can be produced from your ideas into reality in a matter of days.
Think how that could revolutionise your prototyping concepts. Now realise that this can be achieved on an industrial manufacturing scale as well, and as easily as your conceptual ideas.
If you are not sure about Chemical Etching, and want to learn more possibilities with micro-precision technologies, speaking with one of our engineers might be a good idea. They will be happy to go over the parameters of your project with you and help you find the right solution. Don't hesitate to reach out — we're here to help you with your next industry breakthrough!