Veco B.V. has recently launched the new website in updated branding style and improved customer experience. Since its founding in 1934, Veco has been committed to serve the world's most innovative, hi-tech companies from industries that demand high quality and precision. To meet customers' specifications and demands, Veco has developed high standards of performance in Electroforming and become the world-leading manufacturer of micro- precision parts.
the rebranding
With the growth of the company, in 2020, Veco became part of the Muon Group together with Tecan ltd., Louwershanique B.V., and Millux B.V. Since then the Muon Group consists of Centers of Excellence in the fields of Electroforming, Chemical Etching, as well as Laser Material Processing.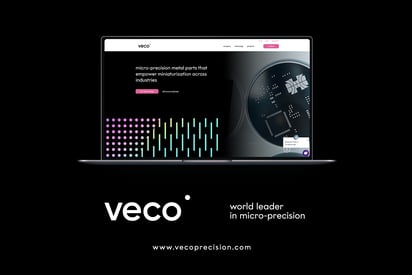 Working together with the Muon Group of companies enables Veco to further push boundaries and create life-changing innovations. The wider joint network, greater investment power, and more accumulated confidence in the potential of micro-precision empower Veco as well as other Muon companies to co-create smarter and more imaginative micro-scale components that are mission critical to industrial evolution and product performance.
the new website : more than just a new look
With the launch of the new website, branding style of the Muon Group is applied, which gives Veco a brand-new look; Veco as a company on the other hand values the same business commitment with valuable customers and business partners.
Besides the new look, there's a lot more to look for in our new website, as much effort is taken to ensure a better experience for our customers.
help center: where you can find most FAQs answered

You may either browse the categorized frequently asked questions, or if you already have a specific question in mind, it is also possible to type in the question/keyword and all the relevant articles will appear.

Didn't find what you are looking for? Click on the chat bot in the lower right corner and submit your question directly.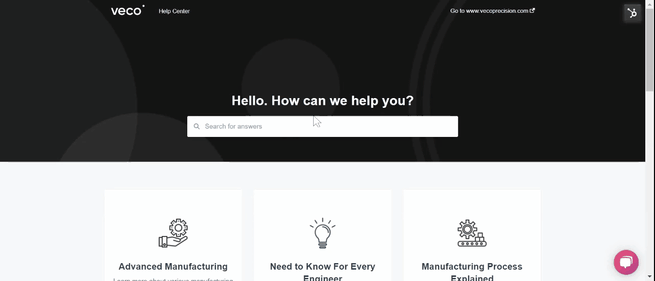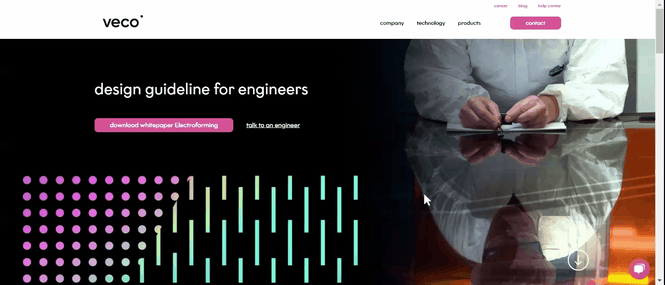 meet the new Veco bot: self service with AI powered guidance




Across the website you see access to the AI powered chatbot in the lower right corner. There are some categorized topics that the Veco bot very well can help you with. If that's not enough, you may also submit a ticket directly and we will get back to you shortly.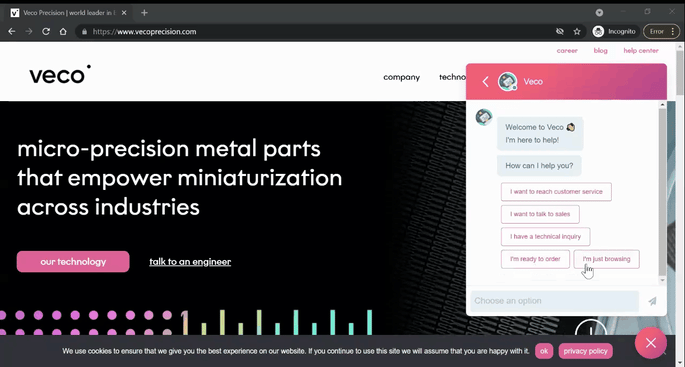 Make sure not to miss our new animation of the Electroforming process, updated Electroforming whitepaper, and numerous new downloadable materials on our new website!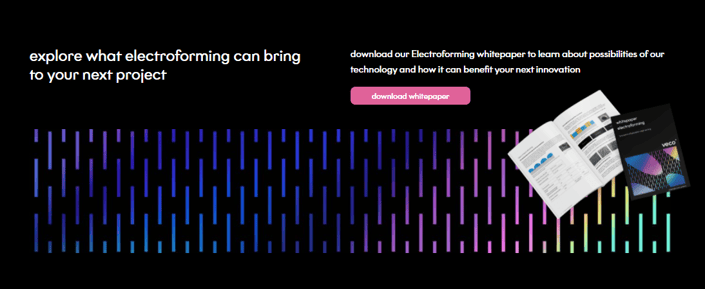 Any remarks or suggestions on our new website?
Don't hesitate to let us know!

When you browse our new website, you may see a pop up message like below to track your satisfaction, it would mean the world to us if you can share some insight!