Back to overview
Electroforming for engineers: overcome R&D challenges by co-engineering with Electroforming technology
Nov 3, 2023 5:06:08 AM
By Hua Fan
When driving toward new technological frontiers, engineers frequently encounter difficulties designing and producing sophisticated micro-precision parts needed to turn visionary ideas into reality. Electroforming provides a pathway to overcoming these fabrication challenges, empowering R&D engineers to reach past the limits of conventional manufacturing processes. To fully leverage Electroforming technology and engineering creativity, Veco provides a co-engineering service to empower the engineers.
How Electroforming technology help overcome R&D challenges
R&D engineers often face challenges in designing and fabricating advanced micro-precision components. This includes achieving micro-scale features to meet the challenge of miniaturization, producing optimized geometries that balance strength, weight, and functionality, and incorporating thin-walled sections and different cross-section options. All while meeting stringent surface finish and tolerance requirements for precision engineering, and developing/finding optimized alloys and compositions for enhanced performance and design demand.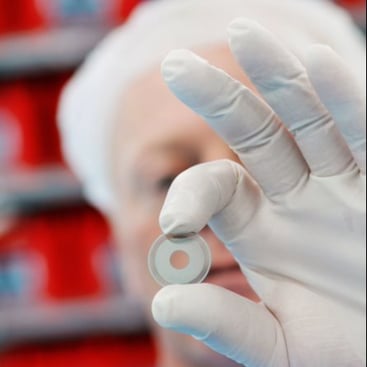 Electroforming is a versatile Additive Manufacturing process that allows for the production of high-precision metal parts with intricate design, fine details, and tight tolerances. It can be used to create micro-scale components with complex features in a wide variety of different materials. Components made through Electroforming also have excellent mechanical properties and surface finishing.
Engineers can overcome many of these challenges and push the boundaries of possible designs beyond what other manufacturing processes can achieve, enabled by Electroforming's capability in miniaturization, design flexibility, and material and property options.
Miniaturization capabilities:

Electroforming provides unique capabilities in miniaturization and micro-engineering

,

capable of producing metal components with microscopic feature sizes down to 2 microns. The technology

has

demonstrated its ability

to

meet stringent tolerance demands down to ±1 micron. This allows

E

lectroforming to enable next-generation innovations in

industries such as

microelectronics, microelectromechanical systems (MEMS), sensors, and microfluidics

, a

s the demand for ever-smaller components with complex micro-scale features increases

.

Design flexibility:

Electroforming unlocks unprecedented design flexibility for intricate metal components. The process empowers engineers to explore creative, complex geometries without being constrained by conventional manufacturing limitations. It facilitates rapid prototyping of

designs with sophisticated shapes and intricate details typically seen as not manufacturable with conventional manufacturing processes. In addition,

Electroforming can construct complex geometries beyond two-dimensional designs difficult or impossible to achieve with other subtractive methods.

The extraordinary design flexibility is further leveraged by Electroforming

'

s capability to produce highly complex parts without excessive tooling costs or lead times

while maintaining the outlook of high-volume serial production.

Material and property control:

Electroforming technology allows depositing metal alloys to tailor specific material properties like mechanical or thermal characteristics.

Veco offers a variety of metals

for Electroforming, including Meta-Nickel, Sulfamate Nickel, Palladium-Nickel, HR-Nickel, and Veco84 - Veco

'

s specially formulated nickel.

Copper and various surface coatings are also available.

Veco's expertise

in

Electroforming and material development further empower

s

engineers to optimize mechanical, thermal, electrical, magnetic, and other properties to fulfill designed function. By leveraging Electroforming technology, engineers can specify material property demand to achieve targeted performance in their innovative component designs.

How Veco supports engineers with the co-engineering procedure
Fully leveraging the capabilities of Electroforming requires close collaboration with Electroforming specialists. Veco is the world leader in Electroforming technology and has worked with various industry-leading organizations to help bring to life next-generation products, combining our expertise in precision engineering, tailored application engineering services, and customer engineers' demand. To achieve the best possible solutions for the critical precision components in demand, Veco provides co-engineering support from initial design through prototyping and scaling to efficient industrial production:

1 identify micro-precision challenges
To create pioneering products, micro-precision components are often required. In the early conceptual stages, Veco partners with customers' engineers to deeply understand product goals, use cases, and performance requirements. We identify precision demands and micro-engineering challenges needed to achieve next-generation innovation. Our expertise helps determine where Electroforming can provide unique benefits.
2 envision solutions with the engineering team
Veco's application engineering team draws on their expertise and experience to develop the optimal manufacturing solution, ensuring quality and efficiency. We select the most suitable techniques, define key features, simulate designs digitally, control crucial parameters, and determine final inspection protocols. Continuous feedback and iteration during co-engineering ensures efficient and effective optimization of the solution.
3 rapid prototyping and iteration
As the world leader in micro-precision parts, Veco is the first in the industry to use Laser Direct Imaging technology. As an early pioneer of LDI, Veco can rapidly prototype complex designs. It not only shortens lead time and cuts cost, but also allows for more design flexibility. As the Laser Direct Imager is capable of projecting high-resolution images directly from a CAD file, digital changes allow fast and easy adjustments to be made to new photoresists. This allows multiple test runs which is highly beneficial for sampling and testing.
4 seamless transition to volume production
After exhaustive prototyping and testing, Veco helps to swiftly scale up to industrial production while maintaining consistent quality. Our expertise in design for manufacturing ensures a smooth transition, leveraging prototypes and pre-existing processes to launch efficient volume production. Support continues through the production lifecycle to ensure performance.
With our collaborative co-engineering approach, Veco aims to empower engineers in various industries to achieve next-level breakthroughs by providing critical precision components and tailored Electroforming services.
Interested to figure out more?
Don't hesitate to reach out to discuss your projects with our engineers.